King Of Prussia, PA, US, 19406
​Location: LOC_KOP-King of Prussia Spec Care 
Req ID: 214158
Shift: Evenings
Employment Status: Regular - Full Time 
​About Us
We're seeking breakthrough makers! Children's Hospital of Philadelphia was built on the belief that we can change lives. Today, in every role throughout our hospital, research institute and care network, the 22,000 members of our workforce are finding new ways – big and small – to make a difference for the patients and families we serve. 
If you are ready to challenge yourself, be inspired and grow – no matter what your role – you just may be the kind of breakthrough maker who will thrive at CHOP.
​CHOP is proud to share that we are ranked No. 1 on Forbes' 2022 list of America's Best Large Employers!
About CHOP: Urgent Care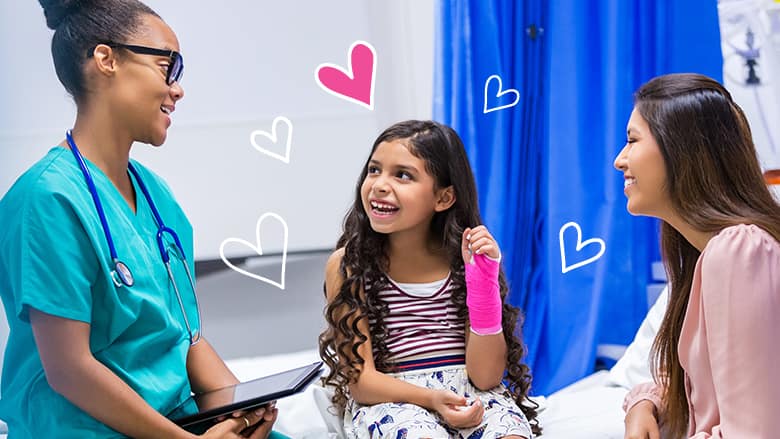 The Pediatric Urgent Care Physician will work in a CHOP Urgent Care location(s) to evaluate, treat and manage patients. The physician is expected to document the medical findings in an electronic medical record (Epic), provide support to patients, families, and colleagues, and collaborate with other Physicians, nurses, ancillary department staff, and Hospital administration.  This position will require working Evenings, Weekends, and Holidays as needed.  The physicians is expected to maintain compliance with all applicable federal, state, local, legal, regulatory, clinical, and organizational standards and requirements including (but not limited to): HIPPA, OSHA, Joint Commission, DOH. May represent CHOP with external organizations, and professional associations upon request.
Learn more about CHOP Urgent Care and our locations by visiting here- Urgent Care Locations
What you will do as an Urgent Care Pediatrician:
Direct Clinical Activities
Provide direct patient care to a panel of patients in the practice.

May supervise clinical providers including resident physicians and nurse practitioners and provide performance feedback in all aspects of clinical functions.

Supervise and ensure high quality of all clinical care services provided in the practice. 

Continually review current pediatric standards of care and work with leadership team to implement new processes as needed.  Respond to clinical alerts and updates from public health officials and others.
Educational Activities (if indicated)
May provide support and leadership for resident/medical student education curriculum and program implementation.  
Research Activities (if indicated)
May participate in and/or oversee research activities, as needed, at the practice and provide feedback and consultation for studies as they progress. Delegate operational functions to other support staff as needed to accomplish the research goals and objectives. 
Administrative Activities (if indicated)
May assist with management of  the Practice:

Evaluate and effectively manage patient access, patient flow, quality improvement, staff performance, effective work teams.

Participate in the development and implementation of departmental standards, policies, guidelines and protocols.

 
Other Duties As Assigned.
Required Licenses, Certifications, Registrations
Active medical license in Pennsylvania as well as other states in which s/he is expected to practice.
Current DEA License
Board Certified (or Board Eligible) in (sub) specialty required. Board Certification is set in compliance with Department / Division and Medical Staff Affairs By-laws (either immediately or within a prescribed time frame from date of hire).
Required Education and Experience
Graduate of a GMEC-accredited Medical School and Pediatric Residency (and/or Fellowship as indicated) Program. Doctor of Medicine (MD) or Doctor of Osteopathic Medicine (DO).
Additional Technical Requirements
Working knowledge of hospital policies, practices and protocols as well as applicable regulations and guidelines.  Knowledge of computer systems and applications.

Skills in exercising initiative, judgment, problem solving, decision-making.

Skill in developing and maintaining effective relationships with medical and administrative staff, patients and the public.

Ability to research and prepare comprehensive reports.

Excellent communication skills (written, verbal, and electronic).
To carry out its mission, it is of critical importance for the Children's Hospital of Philadelphia (CHOP) to keep our patients, families and workforce safe and healthy and to support the health of our global community. In keeping with this, CHOP has mandated all workforce members on site at any CHOP location for any portion of their time be vaccinated for COVID-19 as a condition of employment.  This mandate also applies to workforce members performing work for CHOP at non-CHOP locations. Additionally, all workforce members based in or regularly scheduled to work at any New Jersey location are mandated to be both vaccinated and boosted for COVID-19, with booster timing consistent with applicable guidelines. The CHOP COVID-19 vaccine mandate is in alignment with applicable local, state and federal mandates. CHOP also requires all workforce members who work in patient care buildings or who provide patient care to receive an annual influenza vaccine. Employees may request exemption consideration for CHOP vaccine requirements for valid religious and medical reasons.  Please note start dates may be delayed until candidates are fully immunized or valid exemption requests are reviewed. In addition, candidates other than those in positions with regularly scheduled hours in New Jersey, must attest to not using tobacco products.
EEO / VEVRAA Federal Contractor

Nearest Major Market: Philadelphia
Job Segment: Urgent Care, EMR, Patient Care, Physician, Healthcare, Research